Backblaze, Inc. is a cloud storage and data backup company, founded in 2007. Since 2013, Backblaze has published statistics and insights based on the hard drives in their data center. They have just released the drive stats for Q1 2021. Their data is very much relevant to end customers like us as they use devices offered to the retail business.
As you can see from the below table there is no major outlier, almost all of them has failure rate of >3%. These devices are used 24/7 and for that type of use there are enterprise grade drives.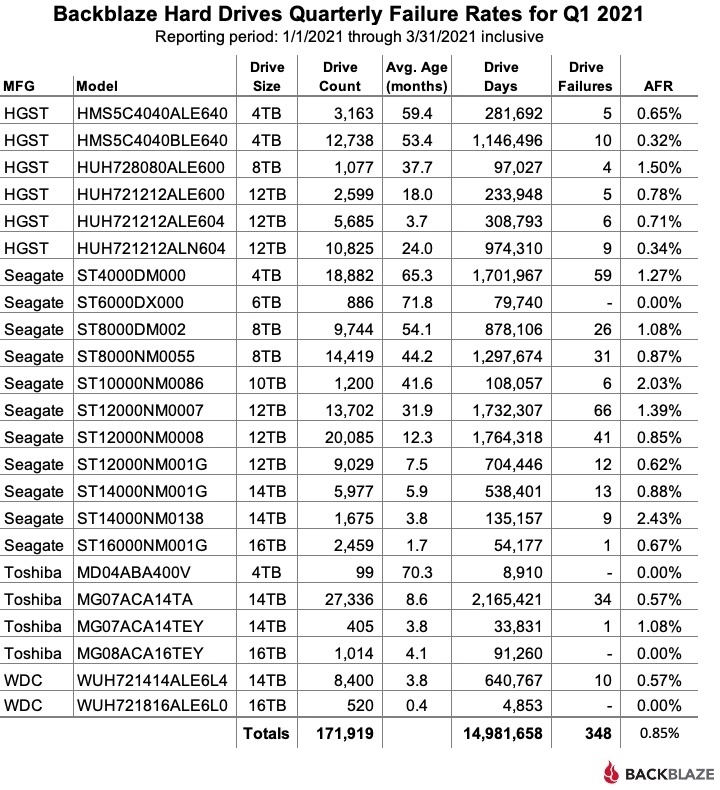 For the first time Blackbaze looked at how their SSDs perform. Although there are no customer data on them (price / TB ratio is still too high) they are used to boot their system, log data, perform diagnostics and all that kind of things – so they are under moderate use.

They don't have enough SSDs at the moment to provide a more detailed (vendor/model) report but as you can see below the Annualized Failure Rates for SSDs are way lower than for HDDs. You should not make any conclusion based on that though as they have just started to collect data and they have way more HDDs.
What that tells us? It seems like you can go and buy almost any kind of HDDs. Happy farming!
More information is at: https://www.backblaze.com/b2/hard-drive-test-data.html